Creating better cars faster and together
Co-creating a New Development Process with Mazda Motor Corporation Using Model Based Development
It All Started with Streamlining the Exploding Software Development Work
This began in March 2018. Panasonic was participating as a supplier in Mazda's new car development project, but the cost of the project had ballooned significantly due to the enormous amount of software development labor. Saito, who is currently leading the co-creation project between Panasonic and Mazda, analyzed the factors behind this based on a vast amount of data and created a new development theme.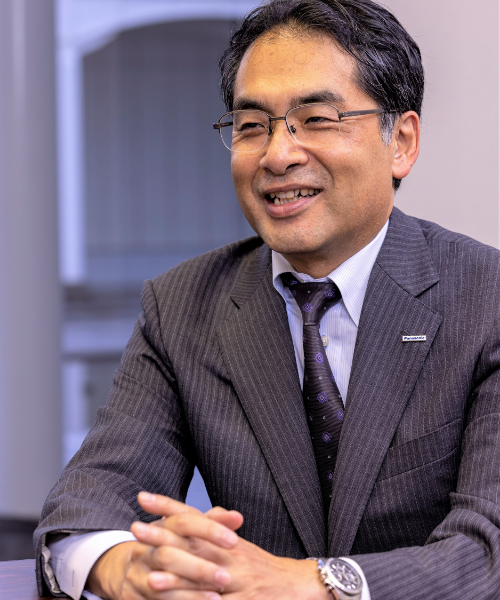 "Panasonic's approach was to build up the steps one by one while manufacturing the product. In contrast, Mazda's culture is to backcast development from an ideal or ideal image. Our first breakthrough was to understand the differences between the two companies and build a relationship that allowed us to talk on the same footing," Saito said.
Saito and his counterpart on the Mazda side, Mr. Suetomi, set the final target as "automation of the software development process." Automation is an indispensable element for improving the operational efficiency of software development, which is increasing explosively. To promote automation, the specifications must first be understandable by computers. Therefore, we decided to apply Model Based Development (MBD) to a part of the next new car development, aiming to improve the efficiency of development labor by exchanging models (computer-understandable specifications) between the two companies.
What Is MBD (Model Based Development)?
MBD is a method of verifying the behavior of a system by representing the various components that make up a vehicle in the form of simulation models and connecting them on a computer, rather than using the actual vehicle. Mazda Motor Corporation is a pioneer in the practice of MBD, having used this method in the development of the SKYACTIV engine, etc. with excellent results.
In addition to its advantages of reducing the cost, effort, and development time required to create a real prototype, MBD makes it easy to try out many ideas by reconfiguring the simulation model in a variety of ways. The developed control logic model can also be used to automatically generate in-vehicle software to be incorporated into the vehicle's electronic control unit (ECU), the heart of the vehicle. This was the goal of this project.
Heartbreaking Errors. Confronting Them, One by One
From theory to practice. The struggle at the development site began. Koshio had experience with product development using MBD within Panasonic. His knowledge and skills were valuable, so he was appointed as the development leader. "Transforming theory into technology. That was my role." Koshio recalls. In general, MBD is completed in-house, but for this project, Panasonic verified the simulation model incorporating Mazda's requirements, and the software was developed based on that information. In other words, the entire manufacturing process, from upstream to downstream, was carried out using MBD methods. This was a challenge that had not been taken on anywhere in the world.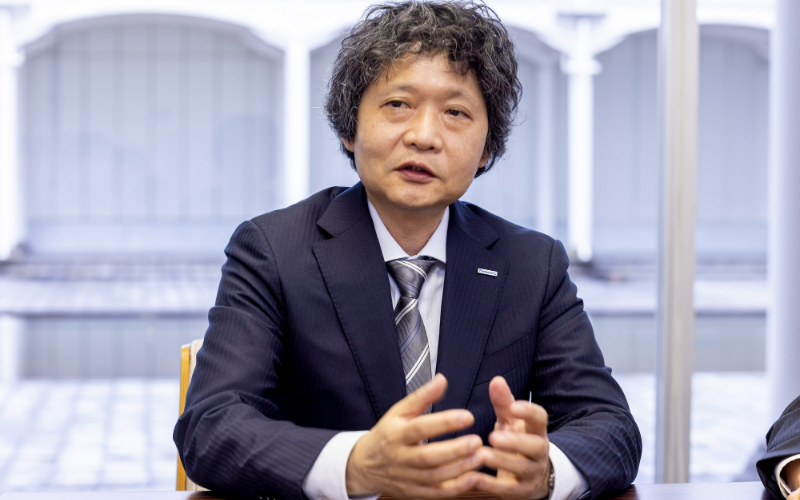 "We received the requirement model from Mazda and incorporated it into our development environment, but there were so many errors that it initially seemed insurmountable. We pulled ourselves together and confronted the errors one by one, and as we proceeded with the verification, we found the reasons. It was as if a fog was gradually lifting." Koshio spent a year eliminating all the errors, and based on the know-how he gained, he compiled a method for describing models into a manual. This collection of rules, called the Model Exchange Specification, is the fruit of his tireless efforts.
Accomplished What No Professional Tool Vendor Could Do
"The model created by Mazda can be used in the same way in Panasonic's environment. It's like how people who speak the same language but with thick accents on both sides can still communicate. Since they speak about one event using completely different expressions, it was necessary to work on creating a dictionary to connect the two languages, so to speak. It could only be done because of Mr. Koshio." This praise comes from Yoshizawa, who is involved in the development process with Koshio. Creating Model Exchange Specification requires deep knowledge of design and technology development.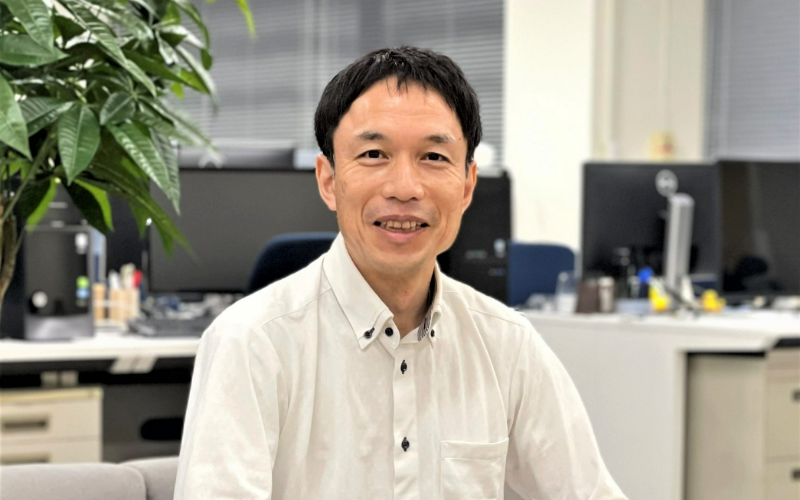 Yoshizawa worked with Koshio to ensure that the models created by Mazda would work the same in Panasonic's environment. Yoshizawa laughs, "I worked hard until we could actually exchange models, because I'm quite a weirdo." In fact, when development started, we learned of the existence of a tool vendor that handled model exchange programs and contacted that company, but they were not at a level that could withstand practical application. They were able to accomplish what even a dedicated tool vendor could not.
Yoshizawa was also mindful of collaborating with members of Panasonic Automotive, who were engaged in the mass production development of the CX-60. "We started by explaining the basics of MBD to them, and then we joined the mass production team, taking over and verifying any problems that arose, and barely managed to get the product ready in time under a tight development schedule. I'm sure we caused no end of trouble for the people in the mass production unit," he said.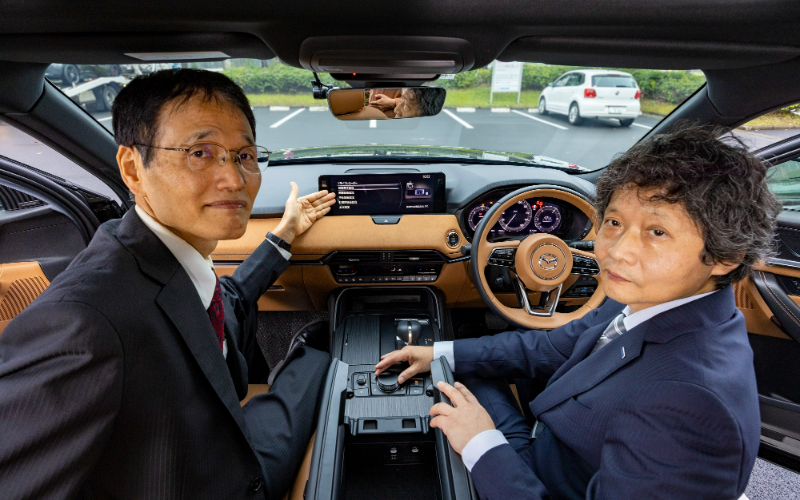 Expectations for Growth of Young Talent
Koshio is moving forward with the development of the next new car. "If Mazda and Panasonic set up a zone in a cloud environment to share data, and if we place a simulation model of the car there for joint verification, we can get faster and more reliable results." Step by step, they are building on small successes.
Yoshizawa says his goal is "ultimately to fully automate the entire process, from software design to code generation. We will be able to provide our customers with superior products quickly and inexpensively. There is still a lot of work to be done," he says.
Saito emphasizes the importance of developing human resources who are proficient in using MBD. Writing models requires a certain degree of expertise and proficiency, which is why he has high expectations for the development of young human resources. "We will make further use of MBD to help make the production of excellent cars both faster and cheaper."
The persistence of outstanding engineers makes the impossible possible.
Customer's Voice: More Widespread Application for Greater Effectiveness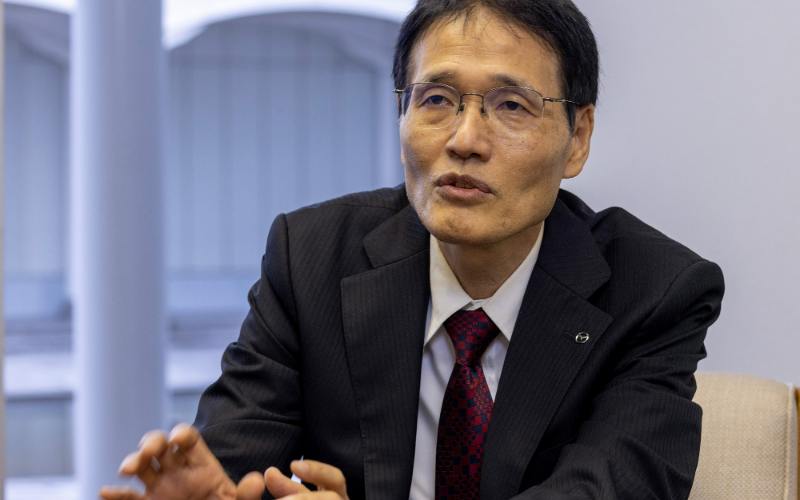 Q: What advantages does this technology have for car manufacturers?
Mr. Suetomi: By creating a simulation model, prototypes can be repeatedly generated on a computer and checked from anywhere in the world. Prototyping an actual car takes a lot of time to rework, and it is not easy to move from one location to another. Simulation models can be easily remade.
If Mazda can conduct a thorough simulation in-house, theoretically, it should be possible to reduce revisions to zero. And if the model is written in a language that can be interpreted by suppliers, necessary parts can be designed and manufactured automatically, which will dramatically increase the speed of new car development.
Q: We heard that it was very difficult for Panasonic to make the models presented by Mazda readable, in other words, to standardize the language between the two companies.
Mr. Suetomi: Each company has a different culture. If we had experienced how Panasonic Automotive Systems develops internally, we would have been able to better understand. So, we don't know if the models we give them will make the later work more difficult or easier. There was a need to gradually change the way the model was written to make it easier, or to bring it into alignment.
Q: What is your impression of Panasonic Automotive employees?
Mr. Suetomi: The people who have worked opposite me are an amazingly talented group. And I think there are many more talented people behind them. I feel this from our conversations with Mr. Saito, Mr. Koshio, and Mr. Yoshizawa, and I also feel that all the software engineers on loan from Panasonic have great abilities.
Q: What developments do you have in mind for the future?
Mr. Suetomi: Since the development of this technology started when the commercialization of the CX-60 had already begun, we were limited in the scope of its implementation for additional functions. The next time we apply it, we would like to use it from the start of the new generation. I believe that applying it to more areas will provide more efficiency benefits. I would like to apply it fully in the future.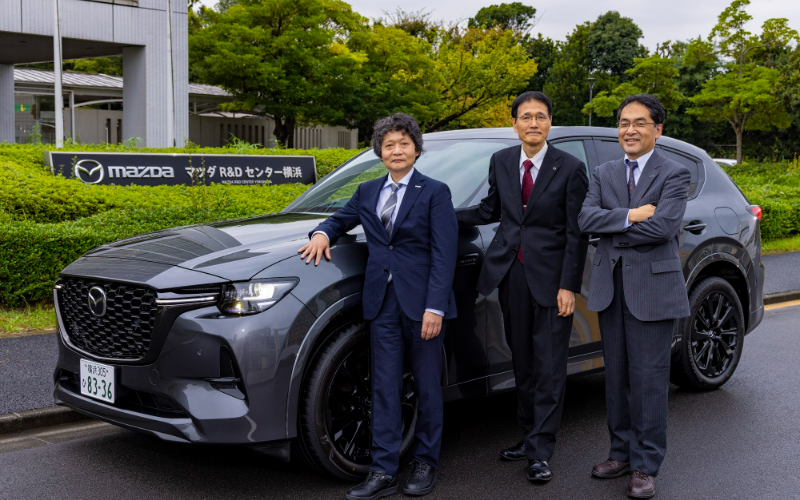 At the Mazda R & D Center in Yokohama.