Improving the Global Environment by Conserving Energy
Energy Management Systems Business Unit, Automotive Systems Business Division, Kusatsu Factory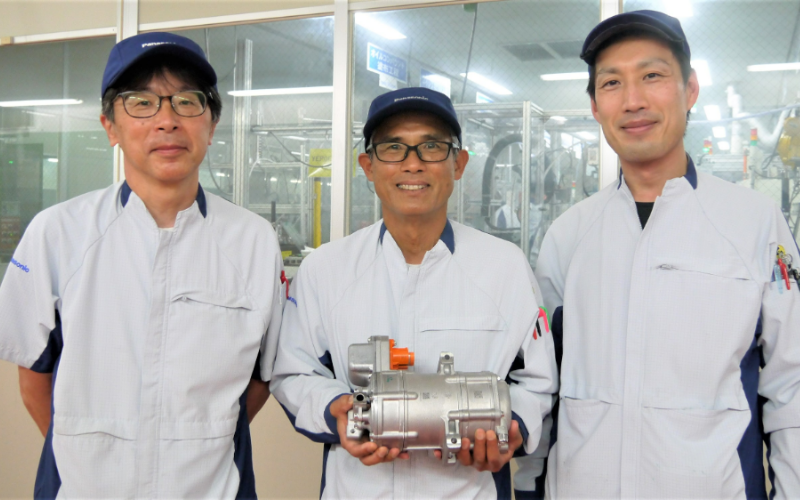 Panasonic Automotive Systems Co., Ltd. (PAS) achieved virtually zero CO₂ emissions in January 2023. In FY2023, PAS is accelerating its energy conservation and energy creation activities. In energy conservation, we have set a high goal of continuing to reduce emissions by 3% of the previous year's results, and in FY2022 we achieved a 3.2% reduction, beating our target. The key to continued energy conservation lies in activities at manufacturing sites, where large amounts of electricity are used in production activities.
This section introduces the activities of the Kusatsu Factory of the Energy Management Systems Business Unit (EMBU), Automotive Systems Business Division, one of the manufacturing sites where energy conservation is being actively pursued.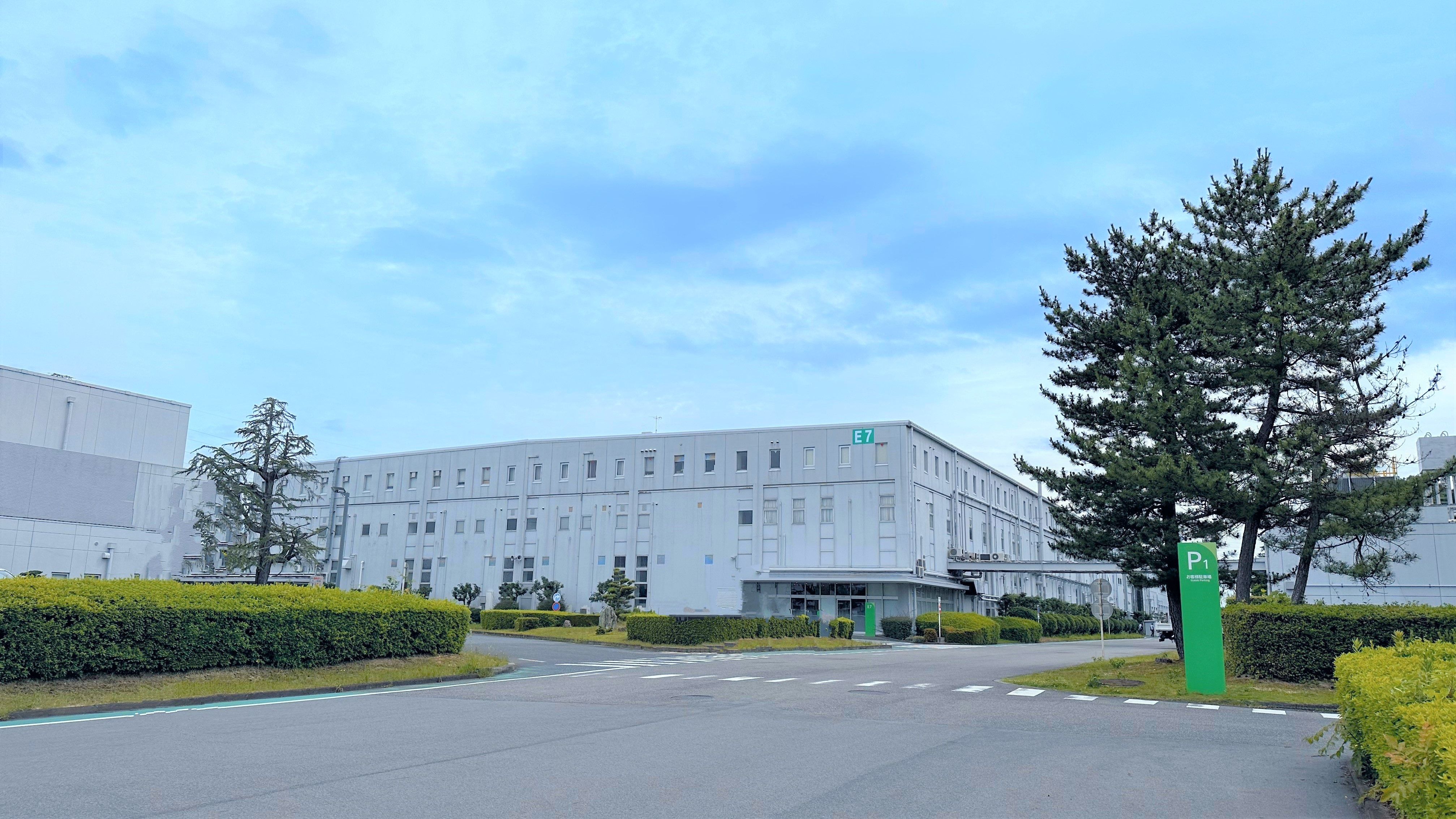 Commercial products developed and produced by EMBU include heaters that warm car seats and steering wheels, charging cables that are essential for EV recharging, and electric compressors that are the heart of air conditioning in cars. Electric compressors are developed and produced at the Kusatsu Factory in Shiga Prefecture.
In January 2023, PAS became the first business company to achieve the Panasonic Group's target of zero CO2 by 2030. The company will continue its total commitment to energy-saving activities with a focus at manufacturing sites, with the goal of annually reducing our year-on-year total energy usage by 3% compared to the previous year. Also, we plan to distribute the resources that result from energy-saving activities to renewable energy introduction costs, etc., and plan to reduce 50% of our reliance on external renewable energy sources by 2030.
Although the Kusatsu Factory has been aware of the importance of energy conservation for some time, for example by frequently turning off unnecessary lights, the clear target of reducing year-on-year total energy consumption by 3% has led to initiatives of entirely new dimensions.
The role of the factory is to produce high quality products with greater stability and more cheaply. To ensure stable quality, it is important to stabilize the production process. In other words, we don't want to change the various conditions related to manufacturing. However, to achieve drastically better energy-savings, we must review those conditions. To achieve these lofty aims, it is necessary to maximize use of existing energy while eliminating wasteful energy consumption.
We asked the Automotive Quality Assurance Center, which oversees product quality and environmental responsiveness for all PAS companies, to conduct an on-site diagnosis as a support role to review the situation from a third-party perspective and propose ideas. A representative from the Automotive Quality Assurance Center visited the Kusatsu Factory to take detailed measurements of electricity consumption in each process. Based on the results identified in this process, it was decided to focus activities on areas of high energy use.
"The visualization of specific electricity usage for each piece of equipment greatly accelerated our on-site activities." says Mr. Komatsu, the leader of the upstream processes, who processes the core components of electric compressors.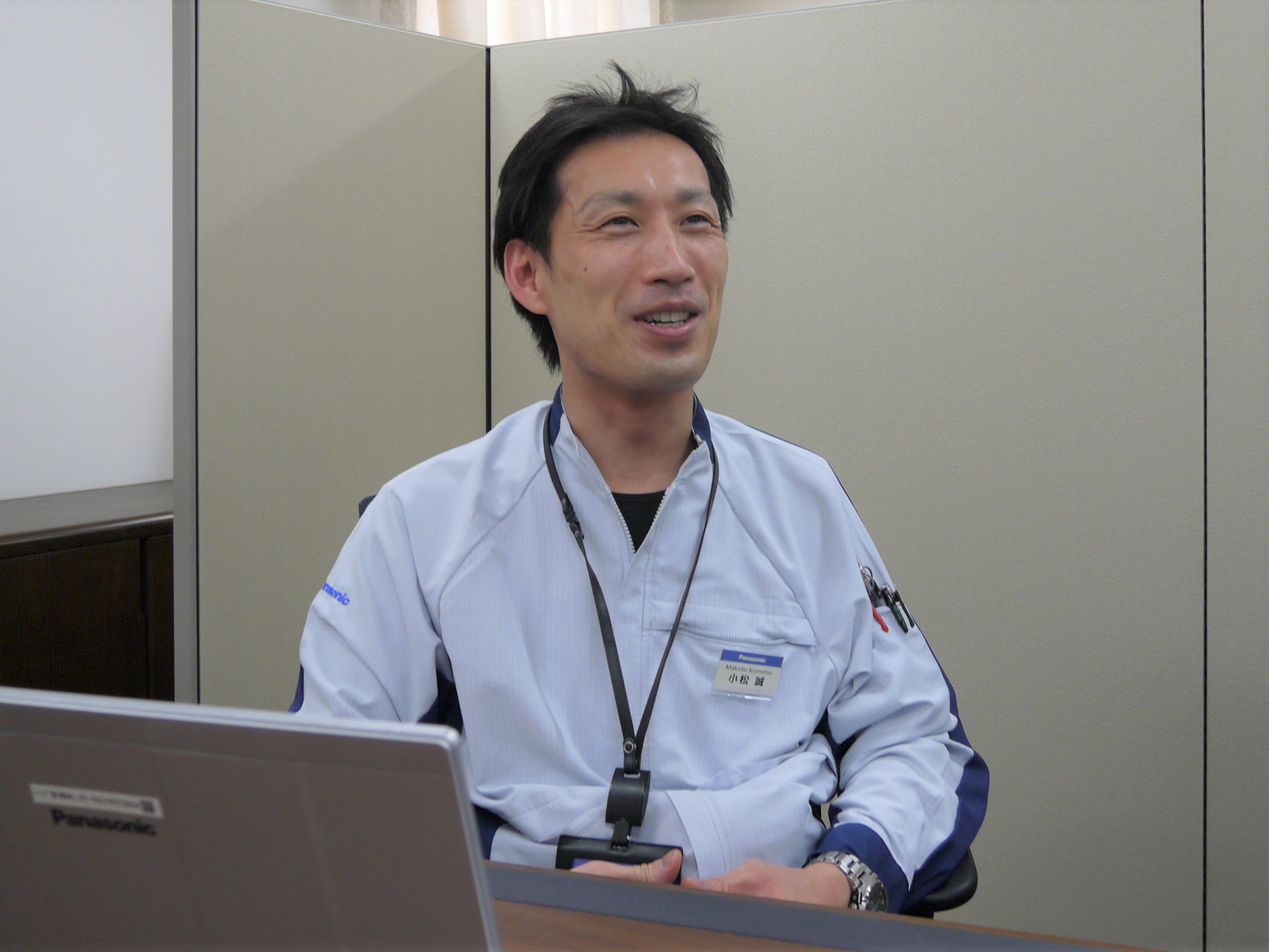 By measuring the amount of electricity used at the Kusatsu Factory on a per equipment basis, it was possible to clearly compartmentalize electricity consumption, which had previously been monitored on a process-wide basis. This allowed us to determine which work processes could benefit from more effective countermeasures.
Mr. Komatsu explained the effect of the visualization, "Now that we have visualized energy consumption, the people in charge on-site can voluntarily set energy conservation targets and take measures while doing their usual work."
One example of measures taken onsite is applying discharge water to heat the cleaning solution used to wash compressor parts. When washing parts, hot water around 55°C is used to facilitate the removal of dirt. The temperature of the cleaning solution, which is around 20°C, is heated to 55°C by applying warm discharge water as the heat source. In addition, the furnace in which parts are dried is covered with an insulating sheet to reduce waste caused by heat dissipation. These two initiatives alone reduced annual power consumption by nearly 10,000 kwh in FY2022.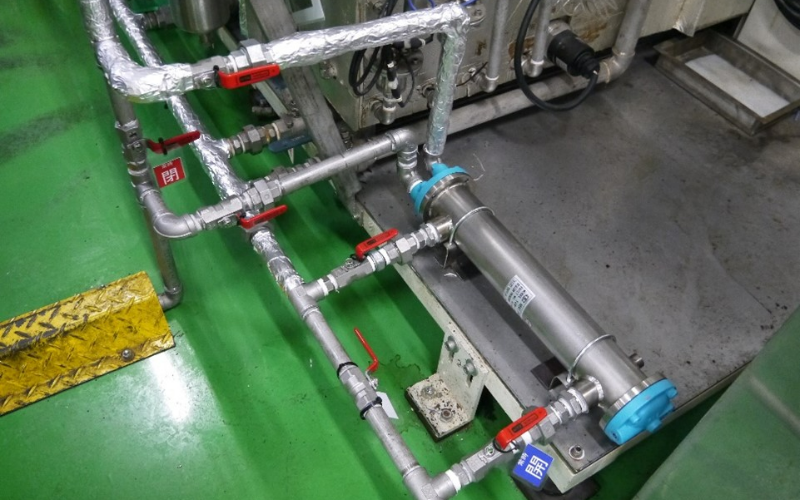 A review of the cooling towers used to cool laboratory equipment also produced significant energy savings. Although operating conditions had changed significantly due to changes in production items and organizational restructuring, the arrangement of cooling towers to cool experimental equipment had not been reviewed. We abandoned the conventional common knowledge and practices and reviewed the situation from the perspective of overall optimization. This led to reduction of the number of cooling towers from four to two. We also promoted the use of inverters that can change the output according to operating conditions. This helped the factory reduce its energy consumption by approximately 20,000 kwh.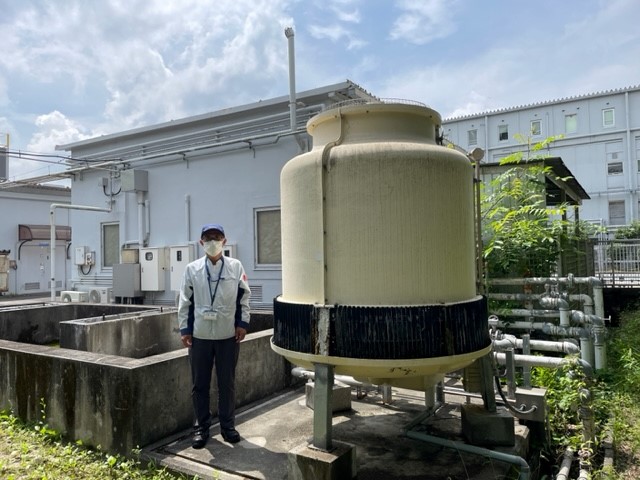 Mr. Komatsu recalled, "It was a big challenge to change the conventional norms because a change in awareness was needed."
The efforts made at the manufacturing site bore fruit, and in FY2022, the Kusatsu Factory achieved a year-on-year 3.2% reduction in electricity consumption. Mr. Miyake, who supports the operation of the Kusatsu Factory, looked back on the activities to date and said, "The visualization of energy savings has greatly changed the awareness of everyone working in the Manufacturing department. They realized that their efforts are linked to energy conservation and make a difference in the environment, so they were inspired to propose various ideas. I look forward to building on this in FY2023."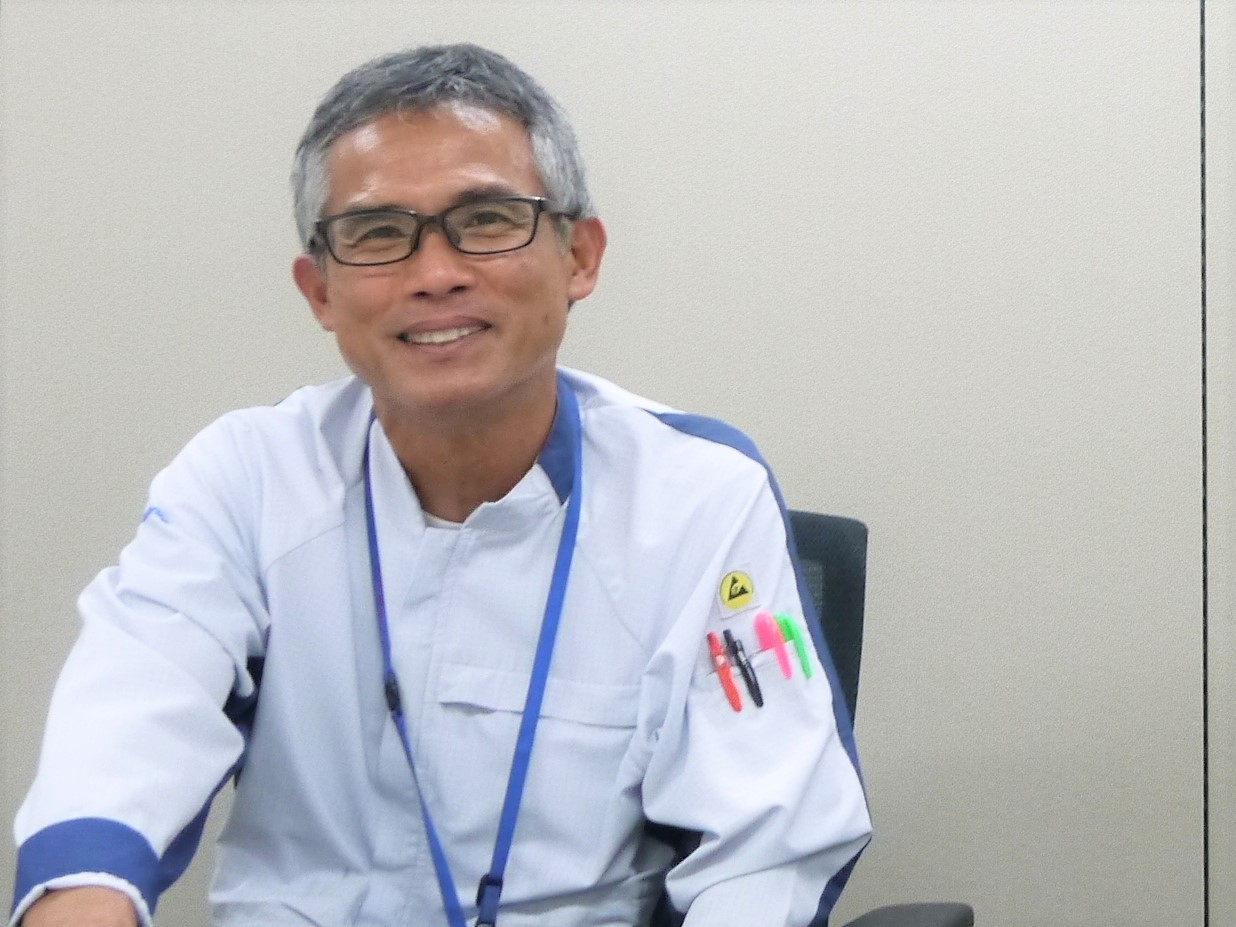 Mr. Komatsu, who leads the site, shared his aspirations, "The only thing we can do is to take on the challenge. We will face any challenge, and we will eagerly gain new expertise in order to bring out the best results."
Mr. Okuzono, the environmental manager, said, "The main players in our energy-saving activities are the people at the manufacturing sites. I am so happy and grateful that everyone is positive. However, there is a limit to what the Kusatsu Factory can do on its own. That is why we would like to take advantage of the Panasonic Group's strengths, and receive expertise and new points of view to further improve our activities."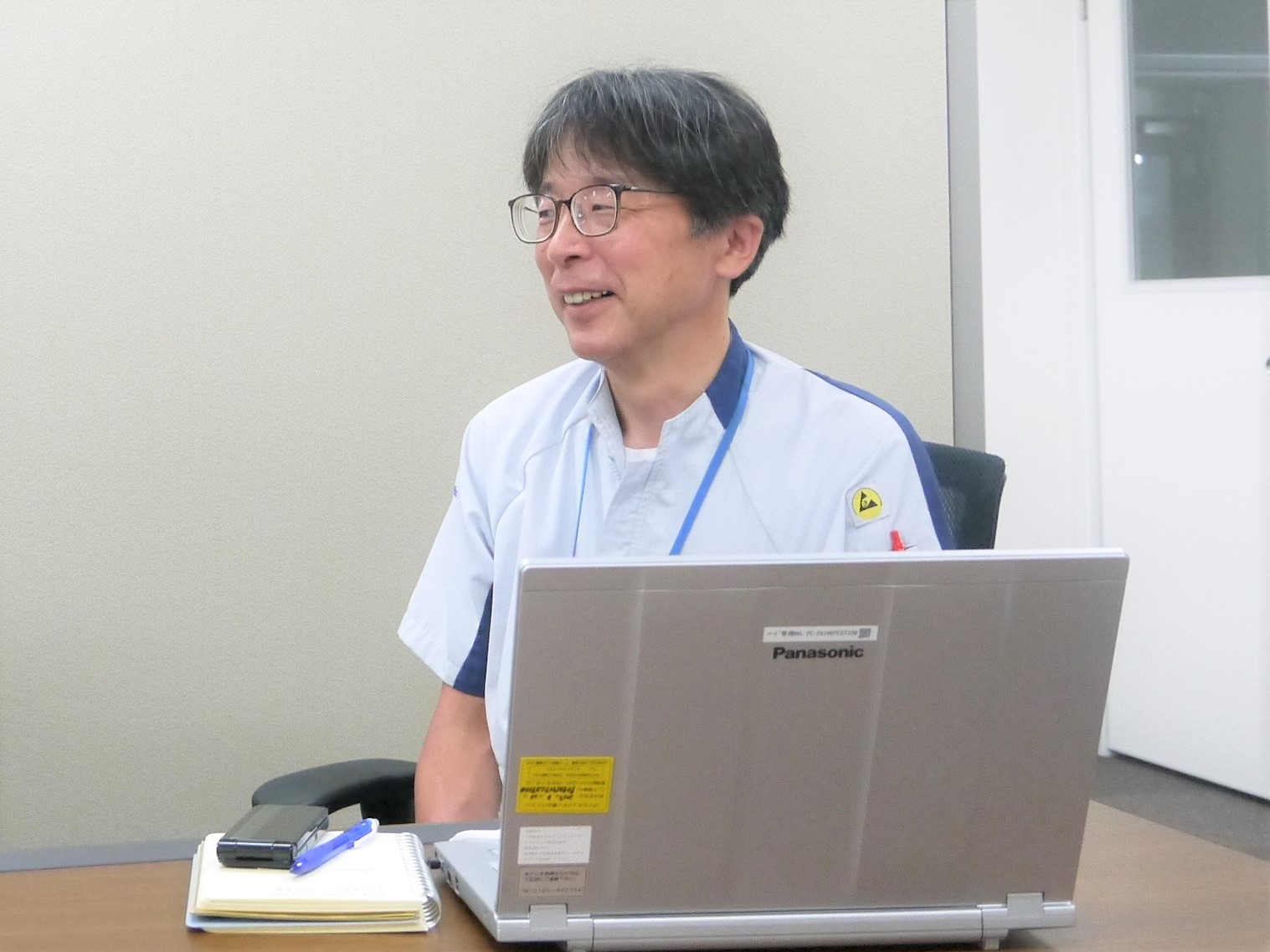 Reducing electricity consumption by 3% every year is not an easy goal to achieve. That is why it is so important that the awareness of those in charge, who are familiar with the site, has changed significantly. Building on the strength of its supporters, the Kusatsu Factory will continue to improve its contributions to the global environment by taking their efforts to the next level.